Celebrated Bollywood star, politician and sannyasin, Vinod Khanna has died aged 70
The actor's career spanned four decades and over 100 films
Vinod in Blue
Khanna died of advanced bladder cancer on Thursday morning, said Tushar Pania, from the HN Reliance Foundation and Research Centre in Mumbai.
Dubbed Bollywood's "original heartthrob," Khanna had reportedly been battling cancer for several years.
Last month, he was hospitalized in Mumbai due to severe dehydration and bladder cancer, according to
a report in the Hindustan Times.
A photograph of him in a hospital gown looking very frail went viral on social media.
In a career spanning over four decades, Khanna acted in over a 100 films.
He's best remembered for his performances in movies such as "Mera Gaon, Mera Desh," ("My Village, My Country"), "Gaddaar," ("Traitor"), "Kuchhe Dhaage," ("Fragile Threads"), "Amar, Akbar, Anthony," which he co-starred in with fellow superstar Amitabh Bachchan, and "Qurbani," ("Sacrifice") — one of several films for which he received a Filmfare Award nomination, India's equivalent to an Oscar.
From villain to hero
Khanna was born on October 6, 1946 in Peshawar, British India, now Pakistan. Soon after the partition of India and Pakistan that year, his family moved to Mumbai.
He made his acting debut in 1968 in "Man Ka Meet," ("A Pairing of Hearts"), where he played the villain, a trend that continued for much of the start of his career.
Three years later, he made the successful transition to the "hero" and played the lead role in "Hum, Tum or Woh," ("Me, You and Them").
In 1982 he left the industry for five years and became a follower of  Osho, He was a resident on the Ranch in Oregon.
In 1999, he received the Filmfare Lifetime Achievement Award and less than a decade later, in 2007, he won the ZEE Cine Lifetime Achievement Award.
Khanna was also a well-known politician. In 1997 he joined the current ruling Bharatiya Janata Party (BJP).
The following year, he was elected to India's lower house of parliament. He was elected four times from his constituency in the northern state of Punjab.
The current PM of India, Narendra Modi,  said:  'Will always remember Vinod Khanna as a popular actor, dedicated leader & a wonderful human. Pained by his demise. My condolences.' … .  accolades from that nationalist need to be tempered… !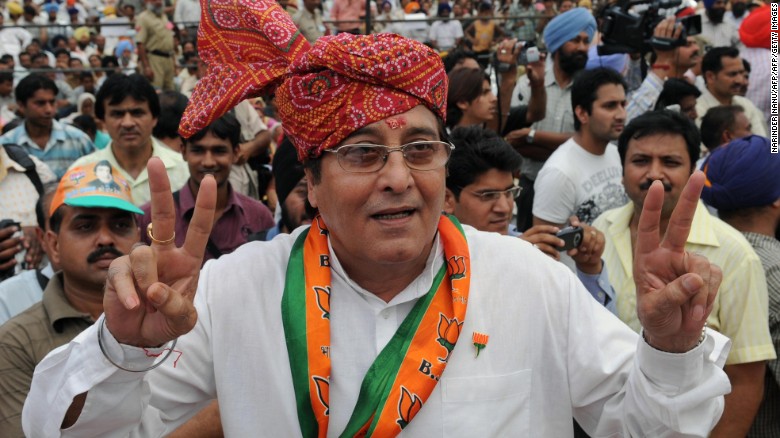 Despite his move into politics, Khanna continued to act with his latest film being 2015′s "Dilwale," ("The Big Hearted").
Khanna is survived by his second wife Kavita, his children Rahul, Akshaye, Sakshi and Shraddha.